Tate Liverpool
Tate Liverpool is an executive non-departmental public body and an exempt charity. Its mission is to increase the public's enjoyment and understanding of British art from the 16th century to the present day and of international modern and contemporary art
The story so far
Illuminating the Wilderness 4 – 28 April 2019
Illuminating the Wilderness, an exhibition with film, workshops and installation, attracted over 19,000 visitors at Tate Liverpool. The exhibition, part of the EXPLORERS project, was open throughout April and was an evolving space that opened as a blank canvas but by the end was filled with marks made by local neurodivese people.

The exhibition closed with a celebration on the last Saturday where makers and members of the public were invited back to the space to see the work hanging together and hear talks from the team that made the accompanying film, Illuminating the Wilderness.
Illuminating the Wilderness is a new film production by Project Art Works, conceived and directed by Kate Adams and Tim Corrigan and filmed on location with Ben Rivers, Margaret Salmon and neurodiverse artists and makers, families and carers.
Complementing the film was an evolving installation of artwork made in collaboration with neurodiversepeople and groups from Social Care organisations across Merseyside including Natural Breaks, Options for Supported Living, Blue Room, and Thingwall Resource Centre. Initially a series of huge blank paper banners, the installation was increasingly populated by drawings and paintings made by the groups as well as general visitors taking part in gallery workshops throughout the presentation.
Quotes from visitors to Illuminating the Wilderness exhibition at Tate Liverpool, 2019.
"Moving and insightful, it was an open look at how neurodiverse people can bring fresh insight and observations on the world."
"The best parts of the exhibition are the multifaceted approach: time lapes of sessions, large scale drawings to immerse self in, friendly staff to add further insight and inclusion."
"It has raised my awareness of neurodiversity - a term that I haven't heard before, but recognise its meaning. It has got me thinking of neurodiverse people as artists."
"It looks very striking. The mix of soft delicate touches and bold marks are very moving."
Explorers at Tate Exchange, 10-13 September 2018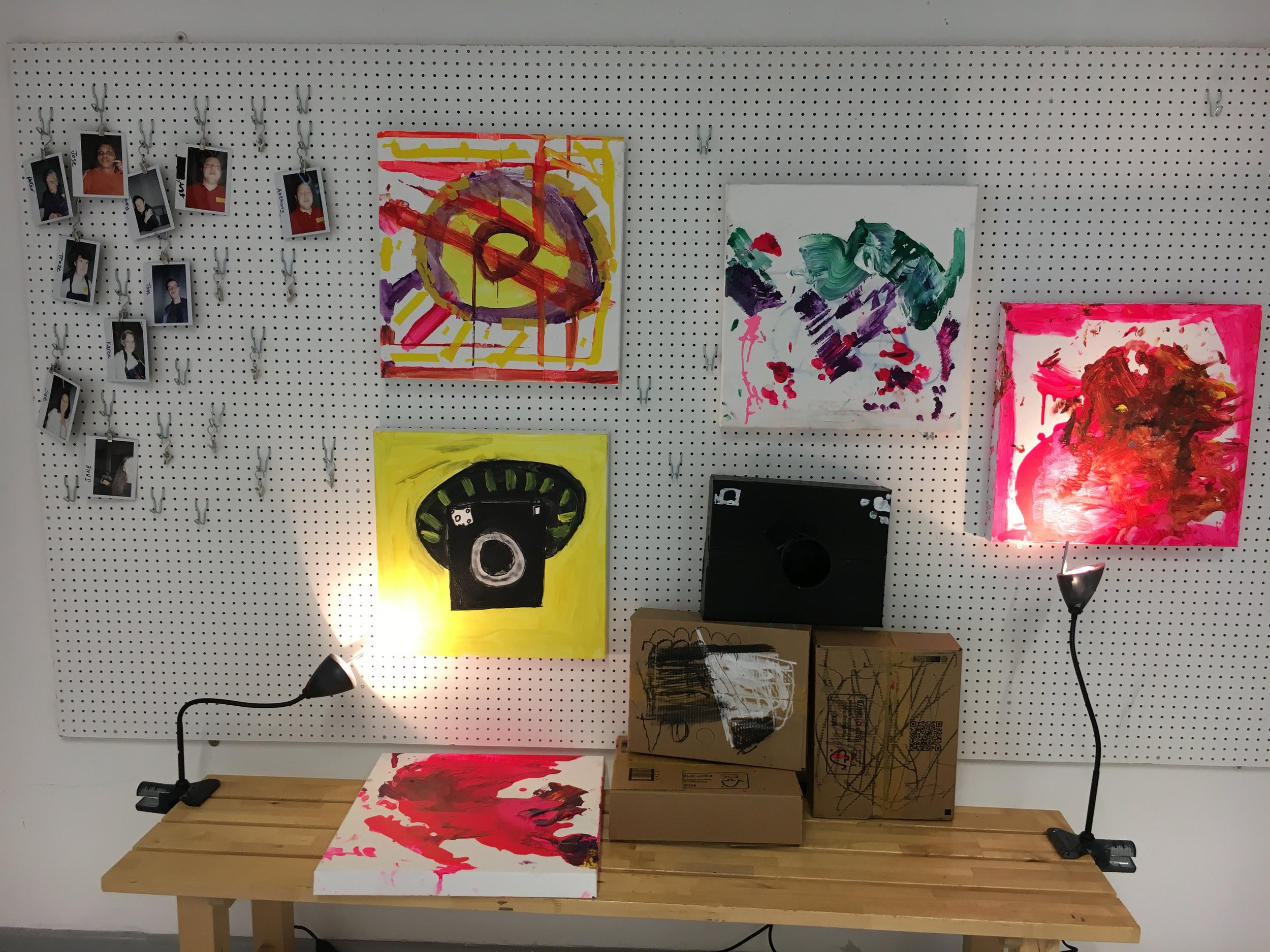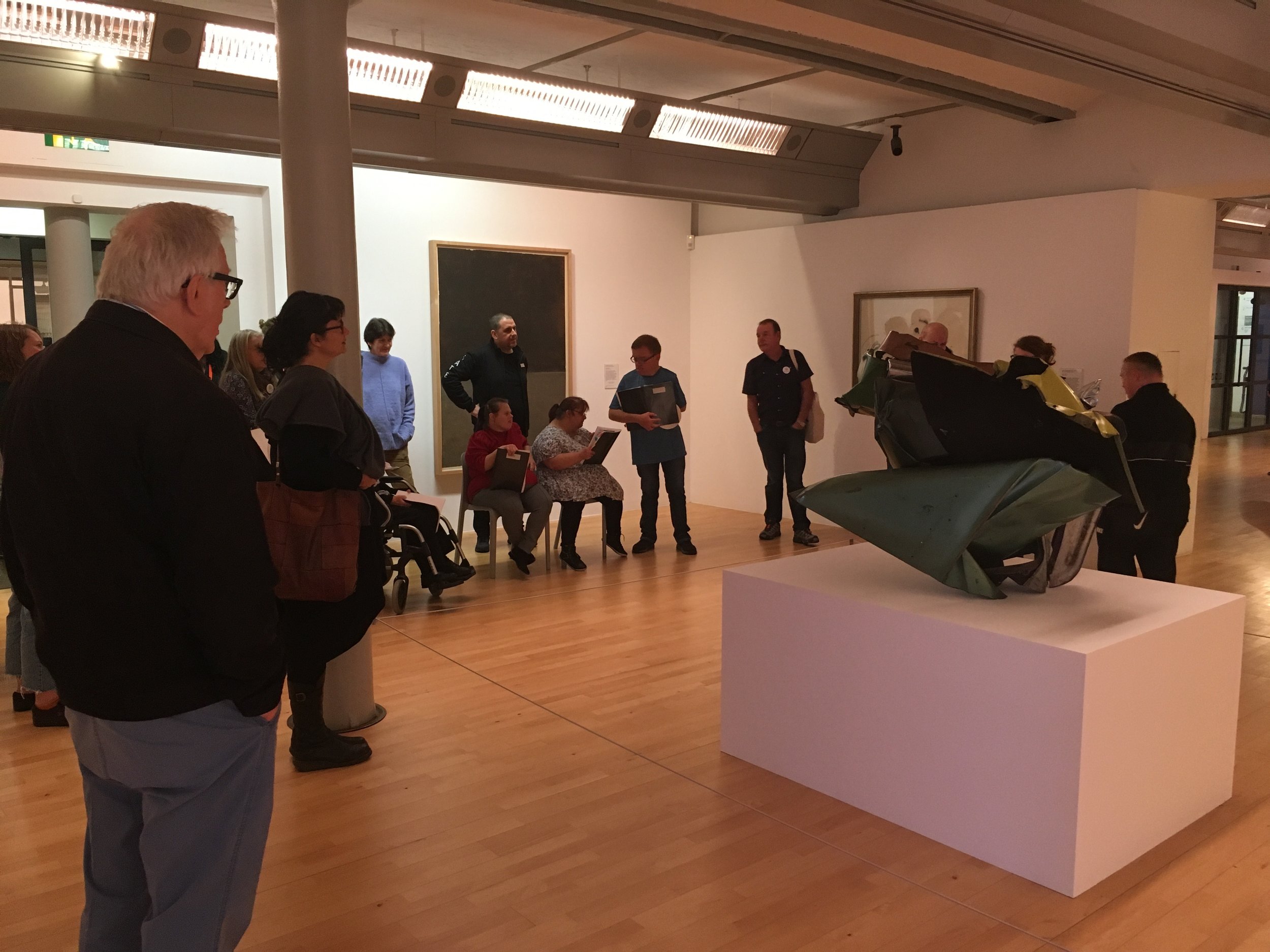 Project Art Works took over Tate Exchange Liverpool between 10-13 September. Together with artists, academics, social care specialists and people with learning disabilities in Liverpool, we held public discussions, film screenings, debates and activities about cultural inclusion, collaboration, and social responsibility.
The programme of events included a tour around the Tate archive by Bluecoats Members. To see the full programme download it here.
To read about the event from a participants perspective please read this blog post from Natural Breaks.
Tate Exchange Awareness, August 2017
During the Tate Exchange Installation, we led 6 workshops over 3 days for local neurodiverse participants in the Tate Clore Learning Studio with a live film link directly into the Exchange space. We worked with 41 participants from 11 organisations including 2 we had worked with in previous encounters while working with FACT in Liverpool in 2012 and 2015. After the workshops we installed Peter Hudson's installation In Colour (see the Fabrica co-commission) in the Clore Studio enabling visitors a further immersive interactive opportunity. We also ran a short Awareness Raising session for Tate staff, which took place in the Exchange space and was attended by 14 staff members.
Quote
"Give my love to everyone and say thanks from all the guys. They are so proud of the work they produced and have uploaded some of it on to our website." - Angela Myveld - Day Services Co-ordinator, Acorn Farm
Tate Exchange, Tate Liverpool 28 August – 3 September 2017
For a week at the end of August 2017 Project Art Works took over the Tate Exchange space in Tate Liverpool. Project Art Works created an installation in which visitors could learn about what we do and take part in conversations about subjects relevant to people with complex needs. We projected films from our archive and offered interactions with people who came into the space.
A series of tree portraits were made by the Tate Exchange visitors over the week and are being made into a short animation. Throughout the duration of the installation we had 973 visitors including a number of families with children who had complex needs.
[on the Tate Exchange exhibition] "…Our brief chat was both interesting and thought -provoking to me and reading the various articles in the Anthology, reinforced the idea of the value of art as a process. Bit like the old adage, it's not the destination that's most important but the journey to reach it. If I had taken that view on board myself, long ago, rather than seeing 'Art' as a product (through my efforts, invariably a disappointing product) then perhaps 'artistic creativity' might have been more central to my life experience... so far! I say 'so far' as I intend to 'draw that tree' from now on : not sure what form it will take or what medium ....but I am working on it. Thanks very much for the inspiration and good luck in your ventures with Project Art Works." - Stephen Barlow
During our time in Liverpool we have been fortunate to work with the following organisations:
Thingwall Resource Centre, Moving On With Life And Learning (MOWLL), Natural Breaks, Person Centred Support (PSS), Options For Supported Living, Mencap Liverpool, Acorn Farm Day Services, Blue Room at The Bluecoat, People First Merseyside, Your Voice Your Choice, Oakfield Day Service, Active Community Enterprise, Steady Chefs.